About Us
Jetcharm began in 1995 and is a family-owned, Northern Beaches based building company. We specialise in building high quality, luxury homes and renovations on the Northern Beaches, North Shore and Eastern Suburbs of Sydney.
We thrive on working with clients to achieve their big ideas and dream builds. We cover all aspects of building from renovations, extensions, bathroom, and kitchen renovations, to outdoor living zones and complete knock-down and re- builds of homes.
We continuously strive to personalise the building experience for our clients. We believe the best work comes from great partnerships with our clients, so we make a point of building our relationship with you. Our decades of experience allow us to guide you seamlessly through the process, communicating with you every step of the way.
We take great pride in making sure that the final product is exactly what you envisaged. Our greatest satisfaction comes from our clients enjoying their newly renovated or built home.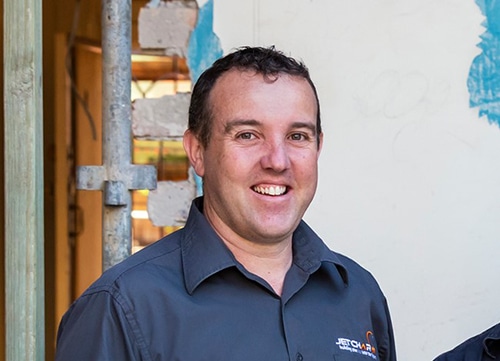 From my 20+ years in the building industry

plus my own home renovation experience

, I know just how stressful undertaking a build or renovation to your home can be. We pride ourselves on doing things differently and working with you every step of the way to make the process as easy as possible. We are a family business and we approach your project with the same care and attention as if it were

our own home

,

which is why we have so many happy and repeat clients

.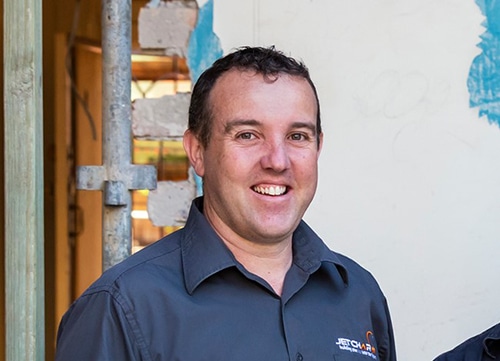 Damian Lane
Director
Damian is a Northern Beaches local and has 20+ years' experience in the building industry most of which has been spent in Australia but also 3 years commercial experience in the UK.
Damian took over from Shaun Conaglen, the original founder of Jetcharm Constructions in 2017. He oversees the day-to-day running of the company but is also hands on for every project. Damian is often your first point of contact, working with you on your plans and budget and ensuring that Jetcharm's response to your project is tailored to your needs and budget. He also does a regular weekly site meeting and is always contactable for you to talk to. At the end of the project, he is there to oversee the handover and ensure your satisfaction with Jetcharm's work.
When he's not in the office or on-site, you will catch Damian spending time with his family, watching his son play soccer or trying to sneak in the occasional game of golf – something he has yet to master the art of!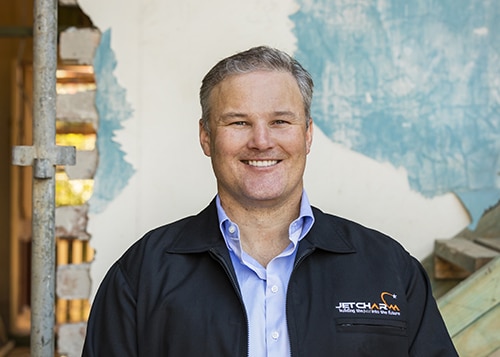 Ben Jennings
Commercial Strategy and Operations
Ben leads the commercial side of Jetcharm delivering financial and strategic business advice. He is a highly experienced chartered accountant and brings a wealth of experience from the building industry as well as other industries to the table. Ben has been actively involved in many of his own property developments and has a passion for building and real estate.
When he is not in the Jetcharm office, you will find Ben running his own successful accountancy practice, and in his spare time, spending time with his family, sampling the different restaurants Sydney has to offer and pursuing his love of fishing!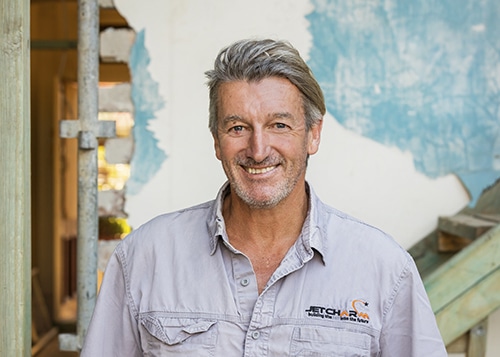 Simon Asquith
Foreman
Simon is one of the Jetcharm original team members! He has been with Jetcharm for over 20 years and has worked in the industry for 25 years.
Simon is one of our highly experienced site foremen. He is particularly well known and liked by clients for his collaborative style. He enjoys working with clients to find solutions whether that's better options to save time and money or creating solutions to issues that inevitably emerge during a build.
When he is not on-site, Simon likes spending time with family and doing all the things he considers relaxing – sailing, fishing, camping, and swimming.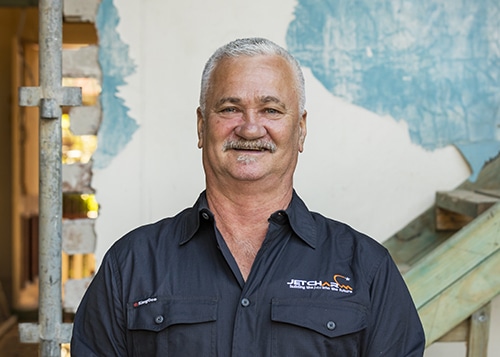 Tony Hartley
Foreman
Tony is one of the Jetcharm original team members! He has been with Jetcharm for over 20 years and has worked in the industry for over 40 years. Building is in Tony's family line – he started work by laying floors with his dad who was also a carpenter before starting his apprenticeship.
Tony brings an incredible wealth of experience to projects and is one of our site foremen. His knowledge means that Tony has a cool head when it comes to project management, he keeps builds running on time, ensures the safety of everyone on site and takes great pride in delivering a finished build to the highest quality. He is also a mentor to some of our younger team members and is well known for telling his crew 'build this house like it was your own.'
Off-site, you will find Tony walking, hiking, and enjoying a beer with friends.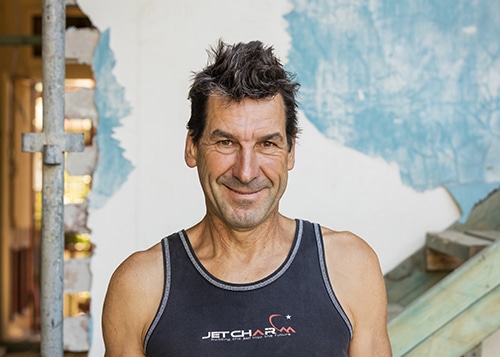 Hansi Scmelzer
Foreman
Hansi is one of the Jetcharm original team members! He has been with Jetcharm for over 20 years and has worked in the industry for over 35 years.
Hansi is one of our highly experienced site foremen and is known for running a tight ship! He ensures that things run on time and are delivered to the highest standard.  He loves working with clients and keeping them informed of the progress along the way and troubleshooting any issues as they arise. He is especially keen on having these site meetings with his clients whilst enjoying a nice cup of coffee! At the end of the day Hansi just loves building beautiful houses that make the homeowners happy especially if that home involves building with timber! Hansi is Jetcharm's timber specialist.
When he's not on-site, you can find Hansi in the great outdoors. He loves riding, camping, bushwalking, and skiing.
Joe O'Connor
Foreman
Joe has been in the building industry for over 15 years and recently joined the Jetcharm team. 
Joe is an experienced foreman and whilst he enjoys managing and overseeing the build, he still loves his trade and enjoys being hands on. He is renowned for his incredible attention to detail in everything he does. Joe likes to find practical solutions to issues if they arise and finds ways to save our clients' money. When we asked him about what makes him want to come to work, he said it is all about working with great people, both the Jetcharm crew and our clients.
When Joe's not at work, you can find him enjoying family time, out in the surf or hitting a golf ball or two.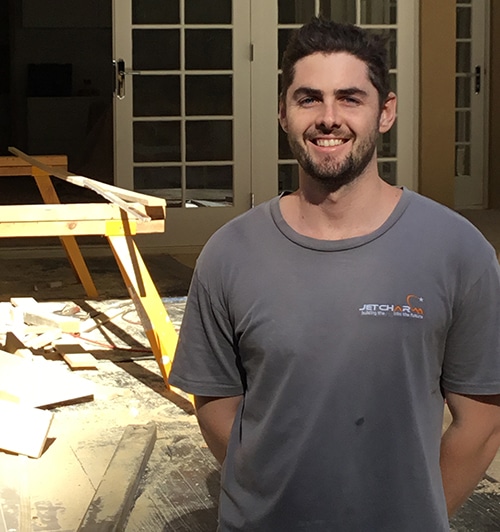 Luke Packer
Leading Hand (Site Foreman in training)
Luke has over 6 years' experience in the building industry and started at Jetcharm as an apprentice carpenter. Luke is now a 2IC, helping to run our larger job sites and leading some of our projects as well.
Luke manages everything that happens on site to ensure that the job runs smoothly from supervising trades and contractors to updating & tracking the job schedules, to ensuring the building and carpentry practice is at the highest quality. He is also the liaison between the many parties involved in a build including our clients, architects, engineers, certifiers and other trades, ensuring that timings are being met and that our clients are informed and happy.  In Luke's mind, nothing is as satisfying as seeing a job progress from start to finish.
When Luke isn't on site, you can find him playing video games, doing lots of outdoor exercise and sports and attending sports games.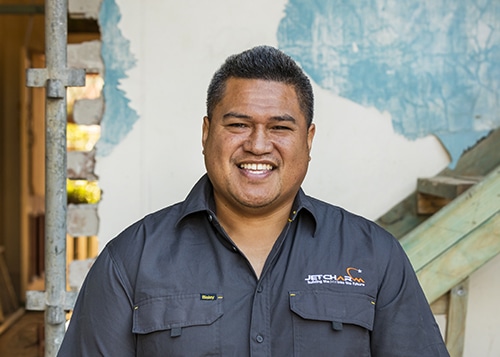 Fasi Teu
Project Co-Ordinator
Fasi grew up in the Northern Beaches. He has been in the building industry for just over 10 years and joined Jetcharm in 2016 as a site foreman.
Fasi plays a slightly different role now and focuses on keeping a client's job running as smoothly as possible. He is often the link between the site foreman, the clients and the other trades and suppliers, keeping the project on track from a both a timing and budget point of view. Fasi enjoys meeting our new clients and going to extra mile to ensure they are happy with the work. He is particularly happy when he brings projects in under budget.
When Fasi is not at work, he is spending time with his wife and 2 young daughters. He also enjoys spending his time coaching the Narraweena Hawks under 9's rugby team. If he isn't coaching rugby, then he is watching it along with an array of other sports!
25 years' experience working on the Northern Beaches.
Bespoke builders of architecturally designed homes.
Project management with a personal touch – listening to your needs, organizing suppliers and schedules to meet those needs.
Suggesting alternative building solutions to minimize costs.
Transparency about the budget and all project costs.
Budget tailored to each project.
Development of a detailed and transparent costing customized to the client's budget.
Budget management with client oversight and regular reporting.
Our managing director, Damian Lane oversees every project to make sure you are satisfied with the process and result.
Assistance with project design and scope development
Fully licensed and insured builder.
Member of The Housing Industry Association (HIA).